Curriculim
Curriculum policy
We organize and implement a curriculum that not only develops expertise in the physical benefits and safety of food resources and health foods but also considers the manufacture and processing of foods. Classes are divided into a Foundation Course which teaches the academic basics of food and health and the basics of management etc., a Specialized Course I which cultivates the ability to identify and solve problems and the disposition of a high-level specialist through practical study, and a Specialized Course II which develops expertise in health and food resources. We also place importance on practical learning such as field activities and internships with the aim of developing high-level international professionals who have the expertise and practical skills to be able to bridge the gap between the global community and R&D. Because the program also places importance on fostering the ability to appropriately investigate and analyze real food and health related challenges and to make proposals with practical and proven effectiveness, students must produce a special subject research report, rather than a master's thesis, showing the outcomes of their research on a particular food and health issue. Furthermore, to fully capitalize on the merits of the international joint degree program run by our three universities, all students study at the University of Tsukuba in the first semester, National Taiwan University in the second semester, and the University of Bordeaux in the third semester. In the fourth semester, students study at any one of the three universities depending on the theme of their special subject research and their post-graduation aspirations.
Overall picture of curriculum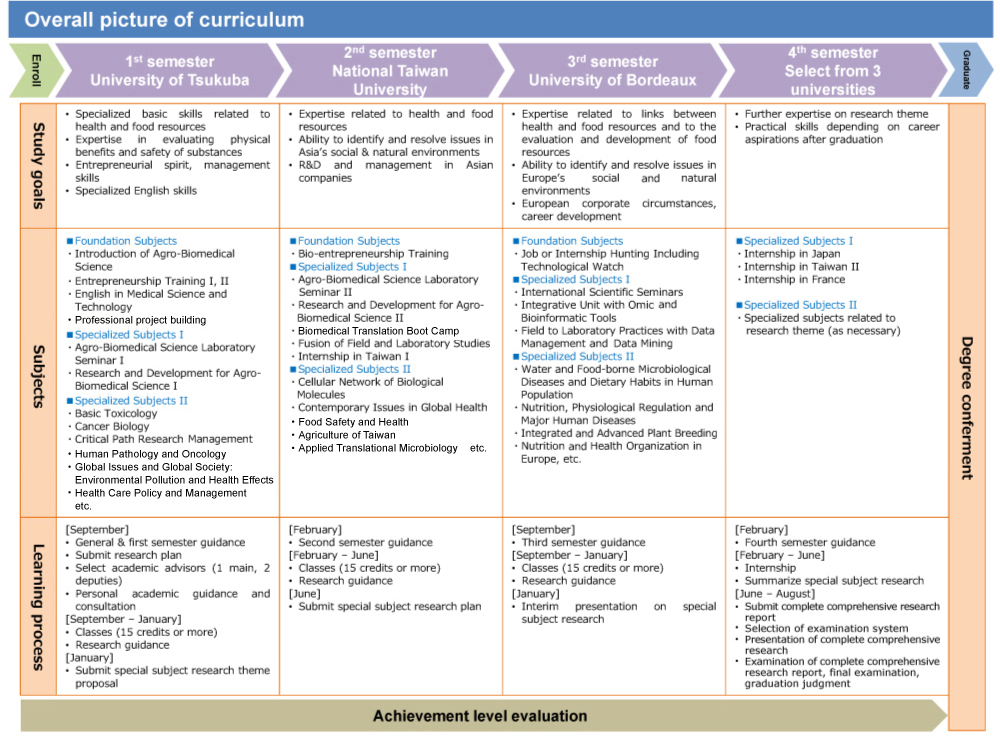 Learning goals for each semester
For the three universities to jointly organize and implement a sequential and systematic curriculum in accordance with the program's human resource development goals, the abilities taught each semester are as follows.
First semester – University of Tsukuba
Specialized basic skills related to health and food resources, expertise in evaluating the physical benefits and safety of substances, entrepreneurial spirit, management skills, specialized English skills
Second semester – National Taiwan University
Expertise related to health and food resources, ability to identify and resolve issues in Asia's social and natural environments, fundamentals of R&D and project management in Asian companies
Third semester – University of Bordeaux
Expertise related to links between health and food resources and to evaluation and development of food resources, ability to identify and resolve issues in Europe's social and natural environments, European corporate circumstances and food safety policies, career development and professional awareness
Fourth semester – Any one of the three universities
Further expertise on research theme, career path enhancement through corporate internship, practical skills depending on career after graduation
Model Course Pathways

Course Outline / Syllabus
University of Tsukuba (UT)
| Subject Name | Course Type | Semester | Credit | Compulsory / Elective | Location | Outline |
| --- | --- | --- | --- | --- | --- | --- |
| Introduction of Agro-Biomedical Science | Lectures | 1st Semester | 1 | Compulsory | University of Tsukuba (UT) | |
| Entrepreneurship Training I | Lectures | 1st Semester | 2 | Compulsory | University of Tsukuba (UT) | |
| Entrepreneurship Training II | Seminars | 1st Semester | 2 | Elective | University of Tsukuba (UT) | |
| English in Medical Science and Technology | Lectures | 1st Semester | 1 | Elective | University of Tsukuba (UT) | |
| Basic Molecular Nutrition | Lectures | 1st Semester | 1 | Compulsory | University of Tsukuba (UT) | |
| Agro-Biomedical Science Group seminar | Seminars | 1st Semester | 1 | Compulsory | University of Tsukuba (UT) | |
| Professional project building | Lectures | 1st Semester | 1 | Compulsory | University of Tsukuba (UT) | |
| Agro-Biomedical Science Laboratory Seminar I | Seminars | 1st Semester | 1 | Compulsory | University of Tsukuba (UT) | |
| Research and Development for Agro-Biomedical Science I | Practical training and experiments | 1st Semester | 3 | Compulsory | University of Tsukuba (UT) | |
| Global Issues and Global society: Environmental Pollution & Health Effects | Lectures | 1st Semester | 1 | Elective | University of Tsukuba (UT) | |
| Cancer Biology | Seminars | 1st Semester | 2 | Elective | University of Tsukuba (UT) | |
| Advanced Course on Global Food Security | Lectures | 1st Semester | 2 | Elective | University of Tsukuba (UT) | |
| Basic Toxicology | Lectures | 1st Semester | 1 | Compulsory | University of Tsukuba (UT) | |
| Human Pathology and Oncology | Lectures | 1st Semester | 2 | Elective | University of Tsukuba (UT) | |
| Critical Path Research Management | Lectures | 1st Semester | 2 | Elective | University of Tsukuba (UT) | |
| Health Care Policy and Management | Lectures | 1st Semester | 1 | Elective | University of Tsukuba (UT) | |
| Advanced Food System | Lectures | 1st Semester | 2 | Elective | University of Tsukuba (UT) | |
| Metabolomics | Lectures | 1st Semester | 1 | Elective | University of Tsukuba (UT) | |
| Internship in Japan | Practical training and experiments | 4th Semester | 3 | Elective | University of Tsukuba (UT) | |
National Taiwan University (NTU)
| Subject Name | Course Type | Semester | Credit | Compulsory / Elective | Location | Outline |
| --- | --- | --- | --- | --- | --- | --- |
| Bio-Entrepreneurship Training | Lectures | 2nd Semester | 2 | Elective | National Taiwan University (NTU) | |
| Agro-Biomedical Science Laboratory Seminar II | Seminars | 2nd Semester | 1 | Elective | National Taiwan University (NTU) | |
| Research and Development for Agro-Biomedical Science II | Practical training and experiments | 2nd Semester | 2 | Elective | National Taiwan University (NTU) | |
| Biomedical Translation Boot Camp | Practical training and experiments | 2nd Semester | 2 | Elective | National Taiwan University (NTU) | |
| Fusion of Field and Laboratory Studies | Practical training and experiments | 2nd Semester | 3 | Elective | National Taiwan University (NTU) | |
| Internship in Taiwan I | Practical training and experiments | 2nd Semester | 3 | Elective | National Taiwan University (NTU) | |
| Contemporary Issues in Global Health | Lectures | 2nd Semester | 3 | Compulsory | National Taiwan University (NTU) | |
| Cellular Network of Biological Molecules | Lectures | 2nd Semester | 2 | Compulsory | National Taiwan University (NTU) | |
| Principle and Application in Health Research Methods | Lectures | 2nd Semester | 2 | Elective | National Taiwan University (NTU) | |
| Global Environmental Health Science | Lectures | 2nd Semester | 2 | Elective | National Taiwan University (NTU) | |
| Measuring Burden of Disease: Methods and Applications | Lectures | 2nd Semester | 2 | Elective | National Taiwan University (NTU) | |
| Molecular Nutrition | Lectures | 2nd Semester | 2 | Elective | National Taiwan University (NTU) | |
| Food Safety & Health | Lectures | 2nd Semester | 2 | Elective | National Taiwan University (NTU) | |
| Agriculture of Taiwan | Lectures | 2nd Semester | 2 | Compulsory | National Taiwan University (NTU) | |
| DNA Processing in Drugs, Diseases and Health | Lectures | 2nd Semester | 1 | Elective | National Taiwan University (NTU) | |
| Applied Translational Microbiology | Lectures | 2nd Semester | 3 | Elective | National Taiwan University (NTU) | |
| Biotechnology in Milk Products | Lectures | 2nd Semester | 3 | Elective | National Taiwan University (NTU) | |
| Internship in Taiwan II | Practical training and experiments | 4th Semester | 15 | Elective | National Taiwan University (NTU) | |
University of Bordeaux (UB)
| Subject Name | Course Type | Semester | Credit | Compulsory / Elective | Location | Outline |
| --- | --- | --- | --- | --- | --- | --- |
| Job or Internship Hunting Including Technological Watch | Lectures / Practical training and experiments | 3rd Semester | 1.5 | Compulsory | University of Bordeaux (UB) | |
| International Scientific Seminars | Seminars | 3rd Semester | 1.5 | Compulsory | University of Bordeaux (UB) | |
| Integrative Unit with Omic & Bioinformatic Tools | Practical training and experiments | 3rd Semester | 3 | Compulsory | University of Bordeaux (UB) | |
| Field to Laboratory Practices with Data Management & Data Mining | Practical training and experiments | 3rd Semester | 1.5 | Compulsory | University of Bordeaux (UB) | |
| Water and Food-borne Microbiological Diseases and Dietary Habits in Human Population | Lectures / Seminars | 3rd Semester | 1.5 | Elective | University of Bordeaux (UB) | |
| Nutrition, Microbiome and Immunity | Lectures | 3rd Semester | 1.5 | Elective | University of Bordeaux (UB) | |
| Nutrition, Physiological Regulation and Major Human Diseases | Lectures | 3rd Semester | 1.5 | Elective | University of Bordeaux (UB) | |
| Nutrition & Health Organisation in Europe | Lectures | 3rd Semester | 1.5 | Elective | University of Bordeaux (UB) | |
| Impact of Environmental Stresses on Crops Production | Lectures / Seminars | 3rd Semester | 1.5 | Elective | University of Bordeaux (UB) | |
| Integrating & Advanced Plant Breeding | Lectures / Seminars | 3rd Semester | 1.5 | Elective | University of Bordeaux (UB) | |
| Green Biotechnology | Lectures / Seminars | 3rd Semester | 1.5 | Elective | University of Bordeaux (UB) | |
| Quality of Animal-based Foodstuff | Lectures | 3rd Semester | 1.5 | Elective | University of Bordeaux (UB) | |
| Internship in France | Practical training and experiments | 4th Semester | 15 | Elective | University of Bordeaux (UB) | |