Message
Hello. My name is Dominique Rolin. I am a professor in Plant Biology and Physiology and the director of the Functional Genomics Center at University of Bordeaux. On behalf of University of Bordeaux, I would like to congratulate and thank the University of Tsukuba for its wonderful initiative concerning its innovative graduate school degree program.
The University of Bordeaux and the French Institute for Agronomic Research, or as we call it in France, INRA, have a ten-year history of cooperation with the University of Tsukuba starting in 2005 through research activities. Two scientists wanted to share the same tomato genetics resource: a tilling collection of "MicroTom" tomatoes. From this step, joint lab research was set up between INRA and the University of Tsukuba. A couple of years later, we started a short-term exchange program (10 days) for bachelor students and a 2-6 month research training experience for graduate students.
This innovative degree program for graduate schools is a wonderful program that opens the doors of the future for Japanese students and French students. This new education system is ready to adequately prepare all students with the essential 21st century knowledge and skills necessary to succeed in life, career, and citizenship. By connecting these excellent universities, this program offers the possibility to students to be part of an ambitious program committed to attracting, promoting, and maintaining a highly qualified workforce.
Don't hesitate. Be ready for the future. Jump in and join in this International Joint Degree Master's Program in Agro-Biomedical Science in Food and Health (GIP-TRIAD).
Interview
――Why study Plant and Biotechnology in Bordeaux?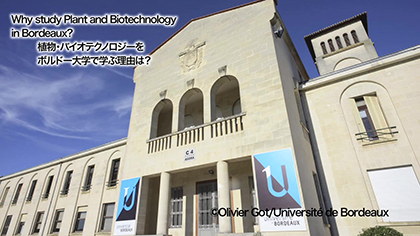 The University of Bordeaux is renowned for the quality of its academic courses and research. The University of Bordeaux is ranked among the top universities in France and is truly open to the world's universities. This openness is illustrated via the numerous partnerships with international institutions. Over 250 cooperative agreements have been signed with partner universities worldwide. The University of Bordeaux has dedicated and strong programs with Japanese universities including University of Tsukuba, Kyoto University and Kyushu University.
Today, 52,000 students have the possibility to follow courses in four major scientific fields: Science and Technology; Law, Political Science, Economy, and Management; Health Science; and Social and Human Science. The Plant Biology and Biotechnology Master's Course belongs to the Science Technology College.
The goal of our master's course is to address major societal challenges worldwide related to agriculture and biotechnology. The following questions should be answered:
How to adapt agriculture to global climate changes?
How to feed a growing population of seven- and soon eight- and nine-billion people?
How to provide energy to a growing population?
How to provide biomass for green chemistry through sustainable agriculture?
Our will is to prepare our students to solve these challenges by using plant and fungus biotechnology through integrative solutions.
The two keywords are "Agriculture" and "Biotechnology."
――How does your course train students?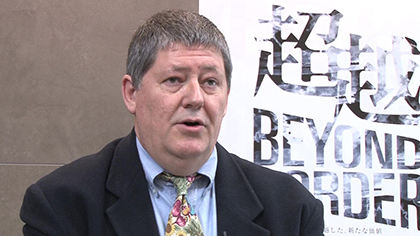 We want to train our students to research, and as such we have built strong relationships with plant biology laboratories as well as with international private companies.
During their studies, our students are embedded in a strong plant research community. Our academic green campus consists of three research institutes: one is devoted to grapes and wine, another to plant and molecular biology, and the third to food quality (ISVV, IBVM, Qualis). They are all devoted to plants and fungi. We have 10 Research Units and 4 Experimental Service Units with more than 500 staff people, including 200 scientists and more than 75 engineers. We also have on our campus about 100 Ph.D. students and post-docs.
The Plant Pedagogic Team is composed of more than 50 scientists, who work in the disciplines they teach, including plant biology, plant development, plant physiology, cell biology, genetics, epigenetics, plant environment interactions, plant and fungi biotechnology, plant metabolism, phytochemistry, plant pathology, and also statistics and tools such as transcriptomics, proteomics, and metabolomics.
――What are the focus and aim of your course?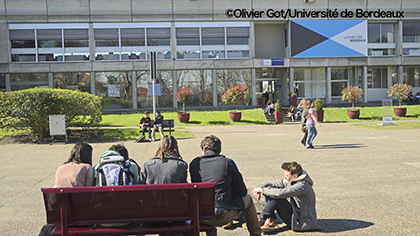 The Plant Biology and Biotechnology Master Course's main role is to promote the transmission of scientific and technical knowledge in various plant fields including:
plant breeding
plant pathology
plant culture and biotechnology
fungus biotechnology
The aim of the Plant Biology and Biotechnology Master's Course is to transfer know-how, tools, and expertise, share many resources and promote complementarity on a vast array of topics. For this, the pedagogic teams have developed many tools through:
personal projects
team work projects
brainstorming meetings
how to use, optimise, and control the modern tools of communication such as the web, big data, databases, etc.
exchange with industrial and professional from biotechnology domains
how to find and to select information
how to present clear solution when facing a complex situation
how to communicate through posters or short public communication
――What kind of courses can a Japanese student take in your course?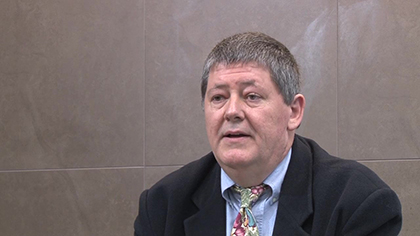 The Plant Biology and Biotechnology Master's Course's main role is to provide students with career guidance and to develop international educational courses. In our Master's Course, an international program with English as a teaching language is now running, and includes:
plant genetics and epigenetics
plant and environmental constraints
plant metabolism
plant development and reproduction
plant biotechnology
Much importance is accorded to combining course content with the high-level research carried out in the research departments and laboratories of the University of Bordeaux. At the end of our international Plant Biology and Biotechnology Master's Course, the students have two opportunities:
 They can prepare Ph.D. thesis work and enter a research career; or they can be directly hired by private companies.
Indeed, our master's course has long standing connections with private companies. The students have the opportunity to do internships in private companies, including seed companies, plant extraction companies, and agrochemical companies, and finally can get a permanent job in these companies.
In conclusion, I will borrow a quote from Winston Churchill, who once said:
 "The most important thing about education is appetite."
I hope that the students of the University of Tsukuba will come to the University of Bordeaux to satisfy their thirst of knowledge.